I suppose it's about time that I got around to posting my MAC in Lillyland haul. I originally only purchased Florida Cremeblend blush, but I loved it so much that I went back and got So Sweet, So Easy as well.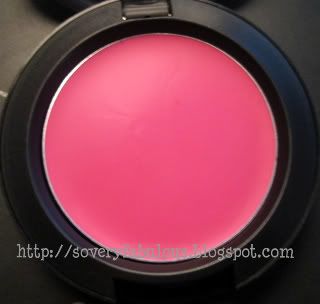 Florida Cremeblend blush
This is a gorgeous shade of bright fuchsia. It can look a little intimidating in the pot, but if you just use a tiny bit, it's quite easy to sheer it out. I've worn this a couple of times already and it's great. I simply apply and blend with my fingers and set it with powder. It lasted all day on me.
So Sweet, So Easy Cremeblend blush
A nice bubblegum pink. Would work well for just a hint of colour if you're going for a more natural look. You could also intensify the colour by setting it with a powder blush.
So Sweet, So Easy (left), Florida (right)
These are the first creme blushes that I've purchased. My skin gets so dry in the winter, and creme products are great for this.
I do also have Rubenesque paint pot that came out with this, though I got it a long time ago, as it's part of the permanent collection.
I didn't pick anything else up, though the Lipgelees are quite pretty. I recently took inventory of my lipglosses, and I have far too many, so I skipped those. The Pearlmatte Eye Shadow is faily sheer, so I passed on that. The Pearlmatte Face Powder is one of those items that is really pretty to look at, but I'm not sure how often I'd actually use it, so I skipped that as well.
What does everyone else think of this collection? Did you get anything?