I've recently been trying to organize my collection of make up and nail polishes a little better. I keep everything in one of those plastic drawer things, it has 4 small drawers that currently contain make up, and 2 bigger drawers. One of the big drawers contains my nail polish. The other big drawer just has a bunch of random junk in it. Anyway, the nail polish drawer is starting to overflow, and a lot of my cometics are outside of the drawers, there isn't room enough for everything. Of course, the problem just keeps getting worse the more I buy. I happen to be on a bit of a buying spree too, whoops!
My boyfriend is taking me to Ikea this weekend, and I know a ton of girls seem to rave about storing everything in the infamous Helmer.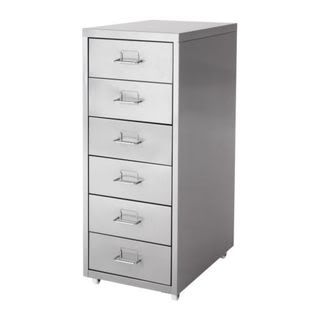 Ikea Helmer
It's definitely going to be on my list of things to check out while I'm there, and may very well end up coming home with me. It comes in 3 colours too - white, silver (pictured) and red. I think I'd get either the silver, or red if I do end up getting one of those.
I also want to get a new make up mirror and lamp to go on my desk where I put my make up on. I'm not too happy with my current set up, it's way too dark and my mirror is tiny!
I'm excited to go to Ikea in general, I could spend hours in there! For the sake of my boyfriend's sanity though, I'm going to try not to take too long... hehe.
So how do you all store your make up?