I bought both the quads from the MAC Spring Colour Forecast Collection.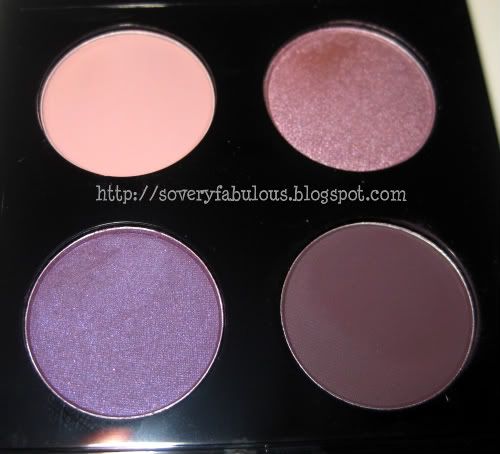 Colour 3 quad
Mink Pink, Bruised Plum, Jungle Moon, Black Tulip
(clockwise from top left)
Mink Pink, Bruised Plum, Black Tulip, Jungle Moon
I really like purple eye shadows, though I don't have that many. I was excited to get Mink Pink in this quad as well, it's a colour that I'd been wanting for a while that MAC had discontinued. I like that there is a mixture of different eye shadow finishes, I like to mix it up when I do my eyes.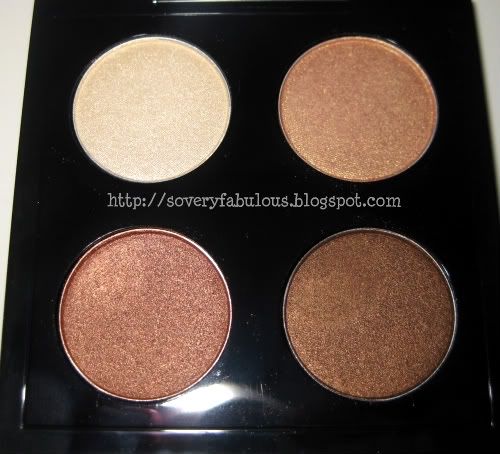 Colour 4 quad
Manila Paper, Flip, Creole Beauty, Aztec Brick
(clockwise from top left)
Manila Paper, Flip, Aztec Brick, Creole Beauty
I'm all about neutrals. They're easy, they're great for work. The shadow I like the most from this quad is Creole Beauty, it's such a gorgeous rich brown colour!
These both come with the new quad packaging. I must say, I'm not really a fan. They are a lot bulkier and hold fingerprints like crazy. I have barely touched my quads except to get these swatches and pictures, but already you can see my fingerprints all over them. They are a lot thicker than the older quads as well. I suppose one advantage is that they seem like they may be more durable. If you're into depotting your quads though, I'm not sure how to go about doing that with these, if it's even possible.
I'm still happy with these though and can't wait to play with them some more. Did you pick up either of these?