MAC came out with another limited edition collection that came out a week ago called Too Fabulous. It features Mineralized Blushes, Cremesheen glasses and lip liners. There are a couple of Cremesheen glasses that I'd like to pick up, though it's nice to know I can wait a bit on those since they're permanent. The lip liners were what most caught my eye. I picked up 3 of them.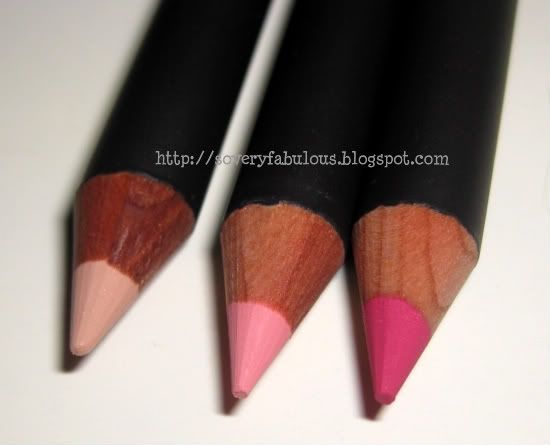 Naked Liner, In Synch, Trimmed in Pink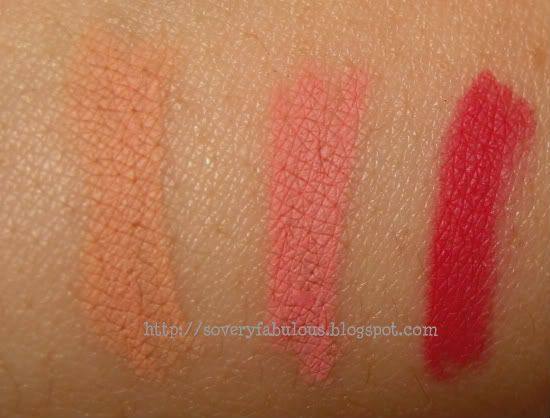 Naked Liner, In Synch, Trimmed in Pink
I went to a Bay counter the day after this collection launched, and these 3 were already sold out. The MA told me that they only got a few of each colour. I was able to get them at a MAC store nearby. To me, these apply creamier than other lip liners I've purchased from MAC.
Naked Liner
- A totally nude colour that erases any colour from your lips, almost as if you had applied concealer to them. It will work great if you're going for a nude lip obviously, but also if you wanted to blank out your lip colour and intensify and bring out the true hue of any lip product you want.
In Synch
- A milky pale pink. I seem to have many lipsticks and lipglosses that are of similar colour, so this will come in handy. I'd love to pair this with Fashion Scoop cremesheen glass.
Trimmed in Pink
- This will go well with brighter pinks. I think it would go brilliantly with Loud and Lovely cremesheen glass, which I will be picking up at some point.
The mineralized blushes don't really interest me. I'm looking forward to getting a couple of the Cremesheen glasses, but will perhaps wait to trade in some empties for them. It's been overwhelming the number of limited edition collections MAC has been putting out lately, I'm trying to be pickier about what I purchase!
Did you pick up anything from this collection?