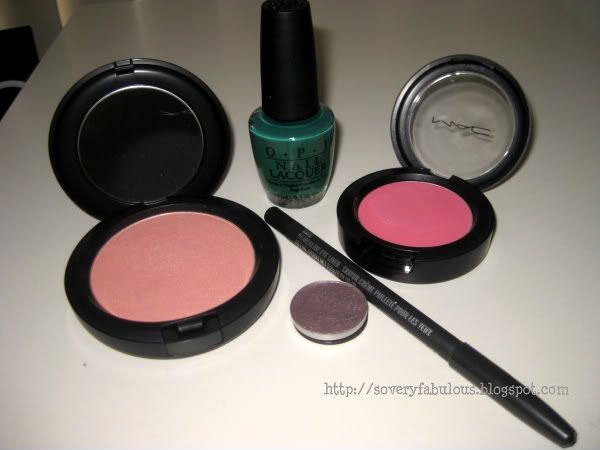 MAC Hypnotizing eye shadow
- This eye shadow came out with the Love Lace collection in December, and I can't believe I almost didn't buy it! I was trying to convince myself it was close enough to Shale that I didn't need it, but that didn't last long when I saw how much people were raving about it. Yes, I can be swayed by hype at times, but I am glad in this case. It's different enough from Shale, which is a long time favorite of mine. I've been all about purple eye shadows lately and this is very wearable either with a daytime look, or along with darker shades for a smokey eye. LOVE!
MAC So Sweet, So Easy Cremeblend blush
- This came out with the Lillyland collection in January. I don't wear much makeup to work but this is perfect to give just a natural touch of colour to my cheeks when the rest of my face is relatively bare. I love the formulas of cremeblend blushes too, so smooth and easy to apply and blend. I usually just apply with my fingers.
MAC Rave Pearlglide
- Although it first came out with the Love That Look collection last Fall, I only got my hands on this recently along with a few of the other colours from that collection. Rage is a gorgeous dark purple with subtle purple sparkles throughout. It offers great colour payoff and it's long lasting. I'm definitely a fan of pearlglides!
OPI Jade is the New Black
- Who would have thought I would end up liking green nail polish as much as I like this? The formula is amazing, it applies like a dream and it's no wonder that this is the colour that was most talked about from the OPI Hong Kong collection.
MAC Shell Pearl Beauty Powder
- I'm so glad I dug this out of my makeup drawer to do swatches for my Liberty of London collection post. I got Shell Pearl some years ago when it was first released with the Sundressing collection and it had been sitting neglected for some time. Ever since swatching it for its re-release with the Liberty of London collection, I have been inspired to use it. It gives a nice glow, and it's great to apply over blush or to highlight certain areas of my face.
Do you have any favorites this month?