My hair can be a real pain to deal with. I've got dry, damaged, curly hair that's incredibly frizzy most of the time. I put it up in a bun most days when I go to work, and when I do wear it down, I always straighten it with a flat iron. I've never quite mastered how to make it look nice curly, but that's another story.
I've recently been hearing a lot of hype about Moroccan Oil. It claims to strengthen and condition as well as restore shine. I figured I'd give it a go. The price of this stuff is a bit steep. I was able to find a mini 25ml bottle of it and decided to buy that to see if I liked it enough to purchase a full size bottle.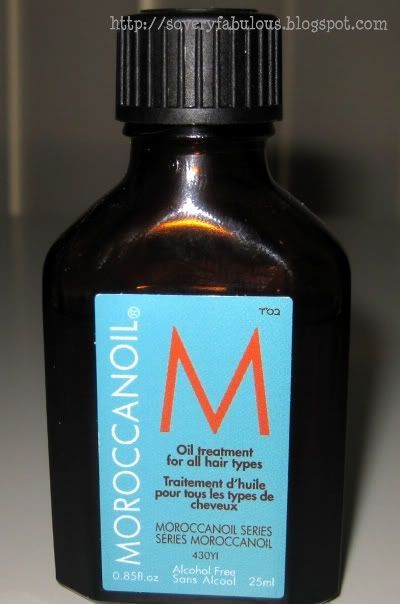 I apply this on my damp hair and then blow dry and straighten. I noticed an immediate difference in the appearance of my hair after the first time I used it. It had more shine, the split ends were less noticeable and there was a bit of extra body to my hair. An added bonus is that it smells great! Sort of like vanilla mixed with something else maybe? I can't quite put my finger on the scent. My boyfriend kept complimenting me on my yummy smelling hair last time I used it.
Moroccanoil also makes an Intense Curl Cream that I may try at some point, as well as some of their other products.
I would definitely buy this again, though I will shop around and see where I can find the cheapest price on it. A little does go a long way, I only used about a pea sized amount. The full sized bottle would probably last me a long time.
Have you tried Moroccan Oil?