I was lucky enough to be one of the attendees of the Toronto Beauty Blogger Meetup (TBBM) held Sunday, February 21st.
FacesByFarah
worked very hard in organizing this and deserves a million thanks for putting together such a great event! Almost 20 beauty bloggers and I think 8 company reps were in attendance of the brunch which was held at Milestones.
Here's a list of the attendees:
Faces by Farah
Rock That Look
Makeup Junkie
Spiced Beauty
Nancy Power
Lipstick Rules
Beauty by Naz
Davida Gregor
MakeMeOver Services
Lelo the Artist
WaterColourSky
Mariana
If I was a Rich Girl
Makeup by Delia
Dare 2 B Yourself
Love Lipstick & Lime
As well as reps from the following companies:
CARGO Cosmetics
Cover FX
Balmshell Cosmetics
Face Atelier
Vasanti Cosmetics
Annabelle/Marcelle
DaLish Cosmetics
It was so nice meeting so many wonderful ladies! I only wish that there would have been more time to get a chance to talk to everyone!
There were tons of prizes given away as well, I was the winner of a great Cargo gift basket. All the bloggers also got great swag bags and I am still amazed at the amount of goodies that were in them!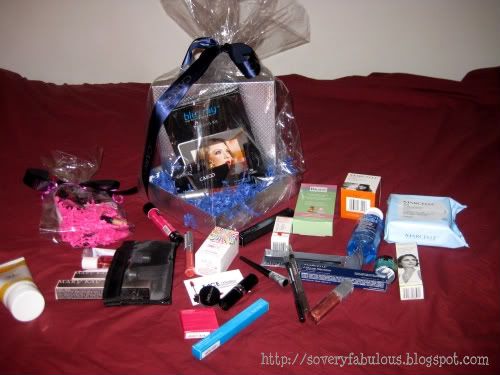 I can't wait to play around with it all!
Brunch lasted a few hours, and then a bunch of us headed over to the MAC pro store. I was pretty well behaved and came away with only the new 130 brush. I'm excited to try it out.
Thanks so much to all the companies that were generous enough to sponsor the event as well as Farah for putting it all together!