I picked up 3 lipsticks from the MAC Spring Colour Forecast Collection.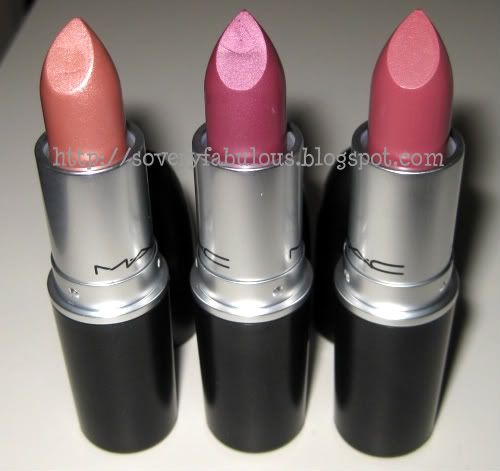 Beigeland, Radicchio, Laugh a Lot
Beigeland, Radicchio, Laugh a LotBeigeland
- I wasn't sure I'd like this colour since it's a frost, but after swatching it in the store, I decided I'd give it a try. When applied to lips, the frost isn't overwhelming, it's just a nice a nice light pink beige, as MAC describes on their website.
Radicchio
- A pretty mauve colour.
Laugh a Lot
- I think this will be a popular shade from this collection. It's just a tad darker than a "my lips but better" colour for me. An easy go to colour that I'm sure will be in regular rotation when I want a natural lip, which is quite often.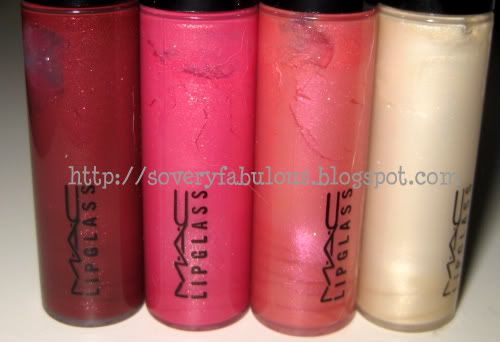 Purple Rage, Hush, Hush Rose, Cha Cha, Almondine
Purple Rage, Hush, Hush Rose, Cha Cha, AlmondinePurple Rage
- I haven't heard as much hype about this colour as much as I have about certain others, but I don't know why - it's absolutely gorgeous! An amazing dark berry shade that can be easily built up, or worn a bit on the sheer side for a less dramatic look. Love this!
Hush, Hush Rose
- A medium pinkish rose colour. I like that this is a bit darker than most of the pink lipglasses that I tend to see often. Very flattering on.
Cha Cha
- This is a sheer pink with light pink shimmer.
Almondine
- I was given this lipglass by mistake, I had wanted to get Gold Dust. I think I will go back for that tomorrow. Almondine is white and frosty. I'm not a huge fan of it. It may be a nice colour for layering over darker shades of lipstick to lighten it up, but I don't think it's very wearable on its own.
I'm happy with what I've picked up so far. I am going to go back and have another look at the collection tomorrow, as well as look at the new Viva Glam lipsticks!
What do you think of the lipsticks and lipglasses from this collection? Did you get any, or are you planning to?